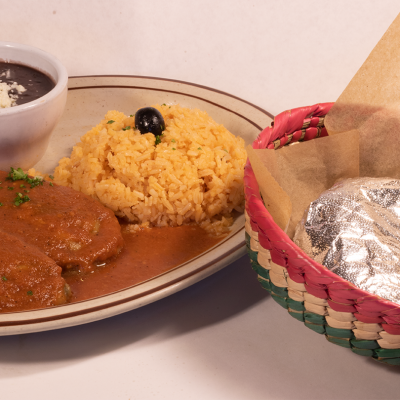 Chiles Rellenos
$20.99
---
Poblano peppers stuffed with cheese, baked in an egg batter and covered with your choice of mild or spicy tomato sauce. Served with rice, black beans and two homemade corn tortillas. .
ORDER ONLINE
0 customers Chiles Rellenos! Leave a review to let us know what you think.
You may also like
---
Hominy broth with your choice of pork or chicken, topped with lettuce and red radishes. Served with chopped onions, oregano, lime and two plain tostadas on the side..
Three corn tortillas filled with chicken breast or cheese, topped with tomato sauce, sour cream and cheese. Served with rice and black beans..
Three crispy corn tortillas with black beans, guacamole and cheese. With the topping of your choice: Guacamole, chicken and sweet ground beef. (Served Cold).